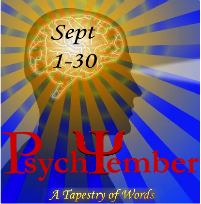 It's Sept. 1, which means...that's right...it's PSYCHTEMBER TIME! If you didn't see
my earlier explanation
, Psychtember is a blog event I'm hosting for the whole month of September, focused on YA books dealing with mental health/psychological issues.
Helping out with guest posts and the like are the following book bloggers, many of whom have psychology backgrounds:
Books from Bleh to Basically Amazing
Small Review
Musings of a YA Reader
Brave New Adventure
All of Everything
Musings of a Reader Happy
A Backwards Story
Confessions of a Bookaholic
There will also be authors and mental health professionals dropping by with guest posts and interviews! And of course, there will be GIVEAWAYS too :D
The psychology symbol, in case you were wondering what was up with the funky "t" in my Psychtember button.
I was keen on psychology right from my very first class back in high school. It fascinated me to delve into the causes of human behaviour, so I kept right on going when I went to university. I ended up getting my B.A. in Psychology a few years ago, and I'm still intrigued by the field. Since a lot of YA books dealing with mental health issues don't get the same kind of attention and buzz as YA paranormal/dystopian/what-have-you, I thought up this event to try to change that. I'd love to share reviews of some of these lesser-read books, increase awareness of them — and mental health — and get more people thinking about these topics.
Just a small disclaimer I wanted to make right off the bat: I know that mental health issues can be a sensitive subject for some people, so I wanted to point out that my posts are never intended to offend. No, I am not a mental health professional, just someone with a Bachelor's degree in psychology and a passion for the field. I may get things wrong from time to time; if I do, you can always send me an e-mail about it! Also, I am not responsible for the content of the guest posts for the event — I don't like to censor so I have largely left the posts up to the writer's discretion.
My first guest blogger will be dropping by the blog later today, but I thought I'd start things out with a short survey...just to see how much you guys know about mental health before the event gets rolling! No, this is not a test. I'm just interested in seeing some general perceptions of these kinds of issues. And I tried to make it fun! :D
There are no "right" or "wrong" answers, and if you don't wish to answer a question, feel free to skip it.
I'm interested to see what the trends are in these responses, and hopefully I'll be able to show you guys the results with fun pie charts and things! :D
Also, I would like to note: if you or a friend/family member is experiencing psychological distress, I recommend seeking out a mental health professional. This event is not meant to replace that type of help.