This fabulous meme is hosted by The Broke and The Bookish, and this week's topic is blog posts that we'd like to share that show the reader something about us. It's been forever since I've taken part in this meme! And okay, I totally cheated here and gave you more than 10 since I grouped some of them together :D
1.) I started vlogging recently, and one of the vlogs I've done has been for Misty at
The Book Rat
's meme Book Chat, where
I talked about under-appreciated/less well-known books that I recommend
.
2.) A book has to really wow me to get 5 stars, but I gave that rating to Tabitha Suzuma's
Forbidden
.
You can read the review here
.
3.) Unfortunately, there's also the opposite end of that spectrum. One book that failed to impress me (getting a 2 star rating) was
Sunshine
by Robin McKinley.
This review
shows off my snarkier side!
3.) Last year I hosted the
Read Outside Your Comfort Zone challenge
, and one of the books I was really impressed with was Stephenie Meyer's
The Host
.
I'm not normally much for sci-fi but I got totally sucked into this one
.
4.) Earlier this year I did
a series of posts called "Cross My Palm"
where I talked about current/emerging trends in YA in various genres. It seemed to get quite a good response so I think I might repeat it next year!
6.) This "Rants & Raves" post of mine,
"Yes, Self-Published Author, You DO Need An Editor!"
, tells you a little about how much I value good editing.
7.) I have three typical review formats, the names based on a photography theme: "close-up," "panoramic" and "snapshot." Here's examples of each:
my review of Daughter of Smoke & Bone
by Laini Taylor,
my review of Picture the Dead
by Adele Griffin, and
my review of The Glass Demon
by Helen Grant.
8.) I'm quite proud of my
"YA Through the Ages" series
, which I spent a good deal of time on researching and writing.
9.) It's no secret that psychology fascinates me. Check out my reviews from
Psychtember
last year if you feel the same (I think
my review of Without Tess
by Marcella Pixley is a nice example) and be sure to tune in this coming September for
Psychtember 2012
!
Also, on a related note, I'd love to get some questions from my readers for the event! Dr. Carolyn Kaufman, a clinical psychologist and author, will be here to answer questions about psychology and writing, so don't be shy —
just fill out this form
(it's anonymous, don't worry) and your question could be picked :)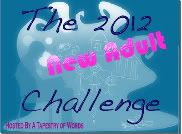 10.)
Here's an open letter to publishers
I wrote about my desire for more New Adult books. A few months later I came up with the
New Adult reading challenge
, which I'm very pleased to see has been well-received!
I'm interested to know, are there any particular posts of mine that have jumped out at you guys?