"

Something is seriously off in the Watkins home. And Julie Seagle, college freshman, small-town Ohio transplant, and the newest resident of this Boston house, is determined to get to the bottom of it.

When Julie's off-campus housing falls through, her mother's old college roommate, Erin Watkins, invites her to move in. The parents, Erin and Roger, are welcoming, but emotionally distant and academically driven to eccentric extremes. The middle child, Matt, is an MIT tech geek with a sweet side ... and the social skills of a spool of USB cable. The youngest, Celeste, is a frighteningly bright but freakishly fastidious 13-year-old who hauls around a life-sized cardboard cutout of her oldest brother almost everywhere she goes.

And there's that oldest brother, Finn: funny, gorgeous, smart, sensitive, almost emotionally available. Geographically? Definitely unavailable. That's because Finn is traveling the world and surfacing only for random Facebook chats, e-mails, and status updates. Before long, through late-night exchanges of disembodied text, he begins to stir something tender and silly and maybe even a little bit sexy in Julie's suddenly lonesome soul.

To Julie, the emotionally scrambled members of the Watkins family add up to something that ... well ... doesn't quite add up. Not until she forces a buried secret to the surface, eliciting a dramatic confrontation that threatens to tear the fragile Watkins family apart, does she get her answer

.

"

(from Goodreads)
Flat-Out Love by Jessica Park
My reaction:
Overall, this was a really cute read.
About 60 pages in I guessed what the big secret was (big spoilers, highlight to read:

it clicked into place for me when Julie mentions that "it's not going to kill him" about Finn, and Celeste reacts badly. I did sometimes second-guess myself but most of the time I figured Finn was actually Matt

) but it was still enjoyable to read, especially with all the tension coming up to the final reveal. Ev
en though I was in on the secret quite soon, it gives the story a fun Shakespearean-esque twist and keeps the momentum going, and I liked the burgeoning romance. The revelation itself, however, was unfortunately not as dramatic as I thought it would be, and felt a little too staged. I also wish we'd been given a bit more at the end, following the climactic scene, especially of Matt.
Julie makes herself present in the Watkins' lives very quickly, which I thought was kind of strange. I suspect she became involved with them not only because she needed a "family" during her first year at college, but also because she wanted to have control over something, and making someone else's life better would help her to feel good about herself. Celeste is a very unusual 13-year-old, and I don't know if I entirely get the explanation at the end for her behaviour. But it was nice to see Celeste's progression as she starts to stand on her own two feet, with Julie's help.
Once I got hooked into it partway through, I finished it pretty quickly, and it put me in a good mood.
Best aspect: the interactions, particularly between Julie and Matt.
I liked seeing the slow, gradual shift in their relationship as she gets more comfortable with him; they're friends, but still engage in teasing, geeky flirtation
. While it's not really
my sense of humour and I didn't get some of the references, it's quirky.
Matt turned out to have an attractive manly and romantic side to him (he's not geeky all the time!) and his character felt quite real.
If I could change something...
I wish we got to see more of her classes and time spent with side characters like Dana, Seth and Jamie. We're told she and Dana are good friends but we hardly see any of their interactions, and none of these secondary characters become full-fledged individuals. Rather, the story is very much about Matt, Celeste and Julie.
I also thought the dialogue
was not always that realistic or authentic. In particular, there are a couple of "soul-baring" confessions towards the end that seemed to go overboard, feeling too formulaic, like the author was giving the reader exactly what they wanted or expected. Plus, one of the conversations involves Matt, and I'm not sure a guy would really make himself that vulnerable.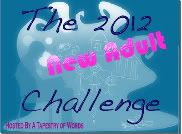 The "New Adult" aspect:
Julie's a bit of an unusual freshman, and her experience is definitely a bit different than a traditional "first year at college" story. She's mature for her age, so her voice feels rather adult, but I still felt like I could relate to her and get inside her head.
I thought a bit much was made of the fact that she loves learning/studying, especially as we don't see much of her courses. Indeed, the fact that Julie's a literature geek and Matt's a math geek seemed to be pointed out to the reader rather too obviously.
If you haven't read it: it's probably one of the better New Adult books I've read, although I thought the writing could use some editing to smooth it out and lessen the amount of "telling" vs. "showing". If you're looking for a fairly light contemporary New Adult read, and you don't mind a bit of predictability, you might want to check this one out.

If you have read it: how long did it take you to guess the secret?

Quote:
"You are a beautiful girl, and it doesn't really matter what you wear. I like the scarf on you, but take it off if you want. As long as you don't borrow your brother's T-shirts, you'll be stunning." Julie turned to Matt. "Don't think that bag strap is hiding your shirt from me. I can still read it." Today's T-shirt said: ME: like you, only better. "You're straight out of GQ, Matt."
"I do my best. ..."
Final verdict: 3.5 shooting stars.

Disclaimer: I received this as an e-book for review from the author.
Note: This book contains some sexual content and mature language.

This book counts towards my goal for the "New Adult" reading challenge.