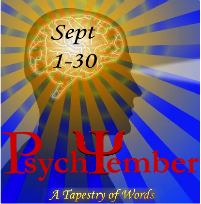 Psychtember is officially over — I hope you enjoyed the posts and learned a bit more about psychology and mental health in YA! There were a few books I still didn't get to (even with the extension of the event into October) so you'll probably see reviews of them popping up on the blog throughout the next month or so.
I'll also be taking a look at the results of my
Psychtember survey
soon, making some pie charts and sharing them with you guys! And there are still some giveaways going on. *points to sidebar*
But, by and large, I will be scaling back my blogging a bit over the next couple months. I started an editorial internship at a publishing house partway through September, and so I won't have as much time as I did previously to spend on blogging. Don't worry, I will still be here! :P The posts will likely be a little less frequent, but I will certainly still be posting :)
A huge thanks to all of the guest bloggers, mental health professionals and authors who lent their time and energy to making Psychtember a success! And thanks also to everyone who took the time to leave thoughtful and thought-provoking comments on the posts :)
Out of curiosity — would you guys like to see Psychtember become an annual event?