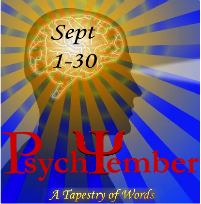 I'm really pleased that there'll be several mental health professionals participating in
Psychtember
! In fact, Carolyn Kaufman, author of
The Writer's Guide to Psychology
, will be dropping by. Dr. Kaufman is a clinical psychologist, writer and writing coach, and her book offers a lot of great information in a concise package. More to the point, it's dead-on in terms of accuracy.
I'd love to give my readers this opportunity to suggest questions or topics for Dr. Kaufman to discuss. Are you wondering what misconceptions about psychology pop up most often in novels? How to tell when therapy is being accurately portrayed? Any burning questions about creating characters with mental illness?
Here's your chance to get an expert's opinion on writing and mental health! Just leave your questions in the comments below (or if you'd prefer you can e-mail me with them).