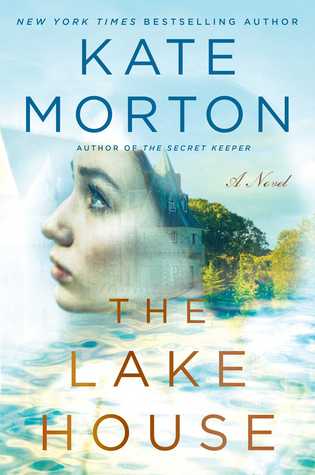 "

From the New York Times and internationally bestselling author of The Secret Ke

eper and The Distant Hours, an intricately plotted, spellbinding new novel of heartstopping suspense and uncovered secrets.

Living on her family's idyllic lakeside estate in Cornwall, England, Alice Edevane is a bright, inquisitive, innocent, and precociously talented sixteen-year-old who loves to write stories. But the mysteries she pens are no match for the one her family is about to endure…

One midsummer's eve, after a beautiful party drawing hundreds of guests to the estate has ended, the Edevanes discover that their youngest child, eleven-month-old Theo, has vanished without a trace. What follows is a tragedy that tears the family apart in ways they never imagined.

Decades later, Alice is living in London, having enjoyed a long successful career as an author. Theo's case has never been solved, though Alice still harbors a suspicion as to the culprit. Miles away, Sadie Sparrow, a young detective in the London police force, is staying at her grandfather's house in Cornwall. While out walking one day, she stumbles upon the old estate—now crumbling and covered with vines, clearly abandoned long ago. Her curiosity is sparked, setting off a series of events that will bring her and Alice together and reveal shocking truths about a past long gone...yet more present than ever.

A lush, atmospheric tale of intertwined destinies, this latest novel from a masterful storyteller is an enthralling, thoroughly satisfying read." (from Goodreads)



The Lake House by Kate Morton
My reaction:
This book had me really invested in the story until the last few chapters. I'd DNFed another book recently and so I was hoping this one would do a better job of pulling me in — and it did, certainly. I kept coming back to it, enjoying getting to know the characters (with all of their many flaws and secrets) and watching as Sadie slowly unpeeled the mystery of what happened that night. I'll admit, maybe 2/3rds of the way through I started getting frustrated because I just wanted to know already and the mystery was getting drawn out so long

,

since

they kept coming up with new theories as each new piece of information was revealed! But I was on board, because I found the characters

and

their motivations

and

relationships (especially those in the historical timeline) fascinating.

A

s always, Morton described the atmosphere

of the surroundings well

, although Loeanneth did remind me somewhat of The Forgotten Garden.
I really enjoyed getting to watch as Sadie constantly revised her theory as she gathered new evidence. It was very logical and it let the reader feel like they were right alongside her, trying to figure this out (with, of course, some additional information they got from the historical chapters). Finally we do find out what happened that night, which wasn't so surprising anymore given the secrets we'd learned along the way, but it made sense. It didn't turn out as tragically as I'd been expecting, given that there'd been such a foreboding tone throughout the story, but it certainly fit with everything we'd learned.
But then Kate Morton took things a step further and the very end

— which I guess was supposed to be the 'big reveal' — was just too convenient and wrap

ped

up too quickly. It was like everything got resolved perfectly neatly, no loose ends, all pieces of evidence fit tidily into the puzzle, and it came off as contrived. Spoilers, highlight to read:
The thought had briefly crossed my mind that one of the other characters might be revealed to be Theo, but I had dismissed it. And indeed, I found

Bertie turning out to be Theo to be too coincidental. The fact that Sadie just happened to get interested in this unsolved mystery, and then ends up being related to Alice? All of the evidence we're given to make it seem more realistic, like the button from his romper that ended up on the floor in the nursery and was still there all those years later? (Speaking of which — how careless was that initial police investigation, really?) Anyway, the cheerful tone of the ending just didn't seem to fit with the darker tone of the rest of the story.
Best aspect: the psychological aspect that's introduced partway through. I won't give spoilers but those of you who know me know that I love psychological elements in my stories! And this one makes sense with the historical setting.
Also, I really loved the character of Eleanor. It's very easy for the reader to be sympathetic to her, and it was so intriguing to see how differently she was portrayed when the narration was in her own head versus the POV of her daughter Alice. Even when I didn't always condone what she did (spoiler:

it is always hard for me to support characters when they engage in adulterous affairs

), I could sort of rationalize why she was doing what she was doing, because of the circumstances.
If I could change something... I'd give it an ending that was a little more realistic and bittersweet, perhaps ambiguous, and less "perfect." I also wish we'd been provided with more explanation and background for the storyline involving Mr. Llewellyn.
If you haven't read it: and you enjoy long, slow-burn mysteries involving family secrets, troubled relationships, and characters who feel very human, then pick this one up — especially if you don't mind endings that come off as rather convenient. The setting and vibe of the story, especially at the start, really reminded me of the film Atonement (I haven't read the book), so if you enjoyed that, you might like this one too.
If you have read it: what did you think of the ending? Did it work for you?

Just one more thing I wanted to mention: There were some passages in here that are very quotable! I kept updating my Goodreads status with quotes as I read.
"Sometimes 'feelings' aren't as airy-fairy as they seem. Sometimes they're just the product of observations we haven't realised we've been making."
"In her relief, Eleanor had stood for a time in the darkened room, watching the faint undulations on the lake, silver-rimmed clouds being drawn across the pewter sky, nursing the uncanny sense of being the only person on earth awake."
Final verdict: 4 shooting stars. An engrossing mystery with characters that come alive; however, I was a little let-down by the ending, which was not as impactful as I would have hoped.

Sidenote: anyone know why they seem to have changed the cover design of Morton's novels with this latest book? The Lake House cover doesn't match the others, and I think I prefer the original style.
Disclaimer: I received this as an ARC for review from the publisher.