The Top Ten Tuesday meme is hosted by
The Broke and The Bookish
. This week's topic is books we recently added to our TBR list. It's an easy one this week!
The 10 most recent books I added to my to-read Goodreads shelf, from most to least recent:
1.)
Caraval
by Stephanie Garber — no cover, but here's part of the blurb (from Goodreads):
"An original world. A legendary competition. A mesmerizing romance. An unbreakable bond between two sisters.

Welcome to Caraval—the spell-casting first book in a fantasy series that's perfect for fans of Marissa Meyer's Lunar Chronicles series and The Night Circus.

Before you enter the world of Caraval, you must remember that it's all a game . . ."
2.)
The Cresswell Plot
by Eliza Wass — this one sounds like a creepy YA psychological thriller, involving some sort of cult-like family?
7.)
The Midnight Spy
by Kiki Hamilton — I read
The Faerie Ring
a few years ago, but although I
enjoyed it for the most part
, I haven't continued with the series. (I would like to check out the next book at some point.) This is the first book in a new series, which looks to be a fantasy set in another world.
8.)
Replica
by Lauren Oliver — No cover yet, but here's the Goodreads blurb: "
Replica, the first of the two books, tells the story of Lyra, known by the number 24, a replica – human model – who was born, raised, and observed in a clandestine research facility called the Haven Institute. When Lyra escapes from Haven and meets Gemma, a stranger on a quest of her own, earth-shattering secrets are revealed."
9.) The Night Parade by Kathryn Tanquary — I don't tend to read much MG, but this one caught my eye because it's a fantasy set in Japan. And I couldn't really say no to that, could I?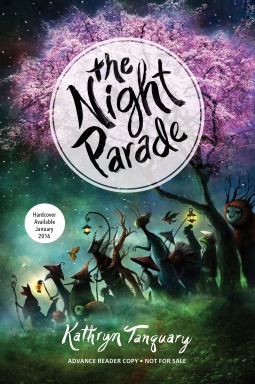 10.) Life After Life by Kate Atkinson — this is an adult novel involving reincarnation of the protagonist. It seems to get very mixed reactions, so if/when I read it, we'll see which side I fall on.